Rezul News/10623080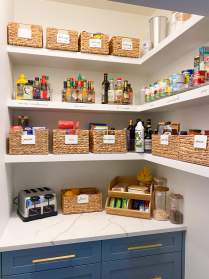 The go-to professional organizer in Boulder is well-versed at interior design and knows how to deliver a stress-free home.
BOULDER, Colo.
-
Rezul
-- Form and Function Organizing, a leading provider of home organizing services, wants to help people across Boulder reclaim the spaces where they spend the most time. Founded by Madeline Wood, the company has established a reputation for delivering exceptional organization solutions that allow clients to live and work in more functional, peaceful, and beautiful settings.
From day one, Form and Function aims to build a lasting relationship with each and every client, so the design team can return again and again as the family's needs change.
"The 'set it and forget it' approach might work for using your crockpot," said Madeline, "But it shouldn't apply to organizing your home. Since your family's routines are always evolving, curating your home should be a continuous process," she continued. "And that's the core belief that makes Form and Function outrageously unique."
More on Rezul News
It's this fundamental belief that has made the
professional organizer in Boulder
unlike any other. With every project the company takes on, the design team strives to leave the client with a space that works well, looks great and–most importantly–conforms to their everyday needs.
At the end of the day, homeowners who turn to this interior designer in Boulder end up getting so much more than they anticipated. On the surface, the company's services include decluttering and designing. Its underlying goal, however, is to empower the people it serves so they can lead more purpose-driven lives.
"Simplifying your life starts with simplifying your space," said Madeline. "And once your home has been decluttered, it's easier to enjoy all the little things, like those small moments with loved ones you know you'll always remember."
More on Rezul News
Every client who turns to Form and Function for
organizing services in Boulder
will get a personalized declutter and design plan that meets their unique needs. Whether you're hoping to maximize storage space in your bedroom or optimize the functionality of your kitchen, you can count on Form and Function to deliver outstanding results.
About Form + Function
Madeline Wood, founder and CEO of Form and Function Organizing, describes herself as "your super organized friend with an eye for design." This is the approach she takes with every client, because she truly gets to know them before transforming their space into something that looks great, works well, and conforms to all their needs. Whether you want a closet guru, office organizer, or drawer slayer, you can count on her home organizing and interior design services in Boulder to provide a meaningful transformation.
Reach out
today to get started!
Source: Boulder SEO Marketing
---
0 Comments