Rezul News/10620169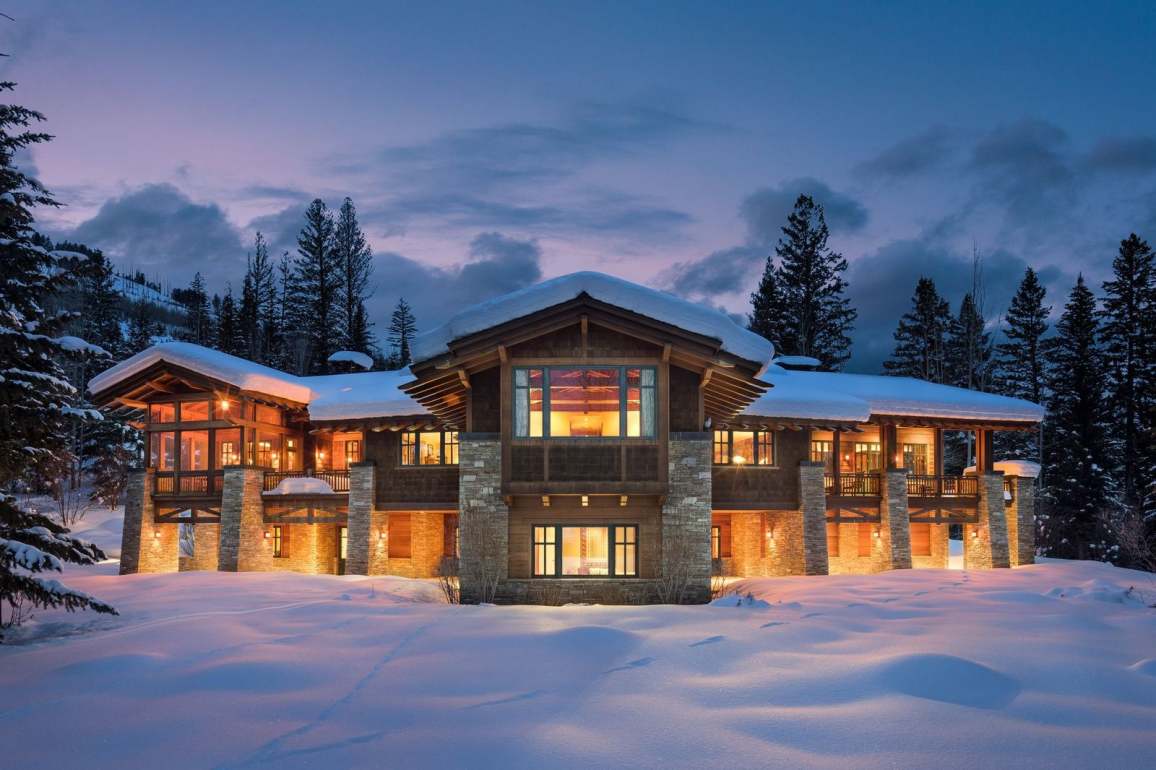 Adjacent to the Bridger-Teton National Forest, this 49-acre estate has two existing homes, the opportunity to build a third, critical wildlife habitat, private blue ribbon fly-fishing and Teton views.
JACKSON HOLE, Wyo.
-
Rezul
-- Live Water Jackson Hole, a leading luxury real estate brokerage in Jackson Hole, today announced the availability of the Heartwood in Crescent H Ranch, a 49-acre home adjacent to the Bridger-Teton National Forest and nestled in one of the most unique neighborhoods in Jackson Hole. Latham Jenkins, associate broker with Live Water Jackson Hole, is listing the property for $22.5 million.
"Heartwood is an opportunity to truly be a part of the landscape and history of the valley while feeling like you're living in a work of fine art through the enchanting architecture designs," said Latham.
With the understanding that the property is important to wildlife habitat, the Heartwood's original owners placed 24.5 acres under an open space easement with the Teton County Scenic Preserve Trust. This protected parcel features highly elevated biodiversity in composition, structure, and function. This area is a winter-long habitat for moose, and seasonal habitat for elk, and mule deer.
The design and execution of Heartwood was inspired by the ethos and style of the brothers Charles Sumner and Henry Mather Greene, who, at the turn of the 20th century, using the Arts and Crafts style, produced some of the most beautifully crafted architecture in America.
"We did this deep dive into the Greene and Greene style and its beautiful details," says Heartwood Architect Kevin Burke. "Every single detail was considered as it related to design. We were intentional with every little thing. I've never before or since worked on a project that focused on the level of detail. This home is unique in Jackson Hole."
More on Rezul News
Heartwood is every bit as much a work of fine art as the paintings by artists Frederic Remington, Alexander Pope, Albert Bierstadt, Thomas Moran, George Catlin, and Winslow Homer (all of whom are represented in the permanent collection of the National Museum of Wildlife Art) that once hung in its foyer gallery.
Heartwood has been a destination for outdoor enthusiasts for more than a century. Opened as a dude ranch in 1927, many traveled to the property to ride horses, fly-fish and hunt, without leaving the property. In 1985, the ranch became the very first Orvis-endorsed fishing lodge in the world (it was a favorite fishing spot of that company's owner, Leigh Perkins). Now, the ranch is closed to the public but homeowners still enjoy the ethos of catch-and-release fly-fishing on the ranch's 7 miles of spring creeks and 2 miles on the Snake River.
The Craftsman-style main house is 8,077-square foot and a guest house is 2,167-square foot. The main house was sited on a ridge to both accentuate the views down over the valley and in response to the land. The guest house is tucked into the forest with a reverse-living design, it feels like a luxurious treehouse.
The ranch has a developed trail system that winds through 1,300 acres and multiple ecosystems—from riparian areas down by the Snake River and Fish Creek to groves of cottonwoods and aspens and pine forest. The Crescent H trail system connects to the trails of the Bridger-Teton National Forest.
This stunning, unique property, Heartwood in Crescent H Ranch, was featured in Wall Street Journal, read more here:
Exclusive Coverage
.
More on Rezul News
You can see more about the listing here:
http://www.Heartwood.RealEstate
For showings or specific info about the property, please contact Latham Jenkins, 307.690.1642
About Live Water Jackson Hole
Live Water Jackson Hole is a division of Live Water Properties, a national ranch brokerage operating in 12 states. Live Water Jackson Hole represents residential, estate and ranch properties in the greater Jackson Hole area of Wyoming.
About Latham Jenkins
Latham's personal mantra – connecting people with experiences – informs all that he does. As a realtor, it's how he guides each homebuyer through this life-changing transaction, driven by three areas of "hyper-local" expertise: real estate services, lifestyle insights and valued relationships with premier financial planners. With Latham, buyers find more than a home; they find a way of life. Latham is an expert at bringing "local' to life." He's lived, worked and recreated here for 30+ years — and loves it here. He also happens to publish the leading Visitors Guide for Jackson Hole, the
Jackson Hole Traveler
and
Homestead Magazine
, the valley's preferred home design brand. Collectively this gives him unmatched insider knowledge on everything from the nuances of each neighborhood, to homes yet to be listed. In a way, he's an ambassador to the city.
Source: Latham Jenkins
---
0 Comments