Rezul News/10433380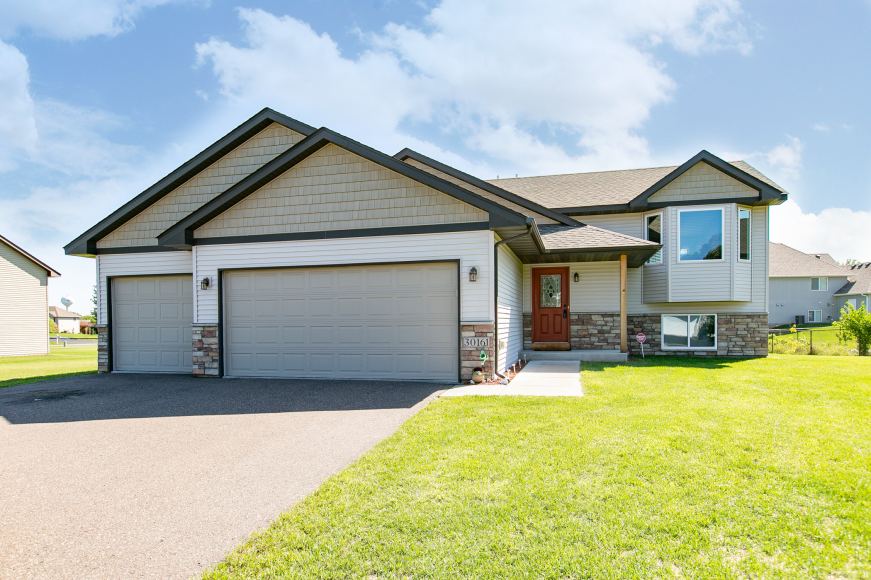 A stone and vinyl shake covered front adds beauty to this split level home with a big foyer and wrought iron rail!
COON RAPIDS, Minn.
-
Rezul
-- Great home for sale in Stacy!
A stone and vinyl shake covered front adds beauty to this split level home with a big foyer and wrought iron rail!
3 bedrooms are all on the same level for the dwellers to have privacy while the rest of the home has an open floor plan.
Stainless steel appliances in the kitchen with a big center island offers additional counter seating and the vaulted ceiling gives an airy feel.
Natural light streams in through the bay window that is installed in the living room.
The Master bedroom has its own bath and the home is painted in warm earthy tones.
Brought to you by the Chris Fritch Team Keller Williams Classic Realty 763-746-3997
Harvey Lent (for whom the town of Lent was named was a great reader and church member.) Well, he married Maggie Robinson and six children were born to them. He packed his supplies from St. Paul, then a mere trading post 35 miles away. The supplies were occasionally hauled with oxen. He traded salt to the Indians for venison and tanned the hides. Grandmother Lent made gloves and moccasins out of the hides. She also made her soap and lye. Their meals consisted mostly of corn-bread-berries-venison-honey and wild fowls.
More on Rezul News
Grandfather Sherman moved from Linwood and ran a store also built the first large house seen from the depot. Stacy was first called "Middle-Branch" Later a man by the name of Stacy B. Collins moved here and sold land. The town of Stacy was named after him. Joshua Hobbs, Frank Dawson, Mr. Henry and Sherman were among the first store keepers. J. M. Tucker and brothers came here in about 1898 and bought out the Dyerman and other store at that time.
Harry Shorrocks also built a store here next to the house where Walter Lent now lives which was the first house built in the town of Stacy.
The first post-office (very small) is out at the Francis Dawson place and should be given to the Historical Society.
https://www.brivity.com/listings/30161-fox-run-road-stacy-mn-55079/property
The store owned by F. C. Keacher was built 41 years ago and has since been remodeled by Mrs. King and is now an apartment building. The only store in Stacy now is run by Dahl Brothers on Highway 61 and also has a large hardware store in connection with it.
Media Contact
Chris Fritch Team Keller Williams Classic Realty
***@kw.com
7637463997
Source: Chris Fritch Team Keller Williams Classic Realty
---
0 Comments