Rezul News/10364389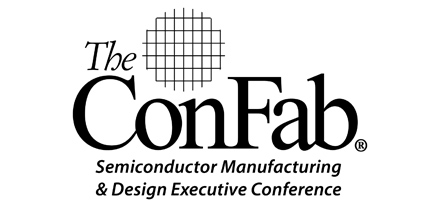 Semiconductor Manufacturing and Design Conference for Executives, The ConFab, Releases Preliminary Agenda Announcing Presenters from IBM, Google, NVIDIA, Qorvo, Qualcomm, GLOBALFOUNDRIES
LAS VEGAS
-
March 20, 2018
-
Rezul
-- The ConFab 2018, produced by
Solid State Technology
and hosted by Editor-in-Chief, Pete Singer, has just released its
preliminary Agenda
showcasing a distinguished group of speakers and topics lined-up for the May 20-23 event being held at The Cosmopolitan
of
Las Vegas.
For the past 14 years,
Solid State Technology
's executive conference has been honored by having innovative leaders come together. We are honored again this year with what promises to be a valuable program for the audience of industry executives, decision-makers and influencers. Led by these speakers, moderators and panelists soon to be announced, they will address critical topics which include the economics and trends in semiconductor manufacturing and design, mainstream semiconductor manufacturing, technologies and applications – with a focus on AI, IoT EUV Lithography, Advanced Packaging, Automotive and Healthcare. The conference will conclude with analyst forecasts and insights on the business climate moving forward.
More on Rezul News
The ConFab 2018 speakers to date:
Keynote
: Rama Divakaruni, IBM Advanced Process Technology Research
Keynote
: John M. Martinis, Head of Google Quantum AI Lab
George Gomba, GLOBALFOUNDRIES VP of Technology Research
John Hu, Director of Advanced Technology at Nvidia
Howard Witham, Vice President of Texas Operations, QORVO
Bill von Novak, Wireless Power Group Lead, Qualcomm
Tom Sonderman, President of Sky Water Technology Foundry
Dan Armbrust, Co-founder of Silicon Catalyst
William Chen, Fellow, ASE
Dr. Li Li, Distinguished Engineer, CISCO
Jim Feldhan, President, Semico Research
Len Jelinek, Senior Director and Chief Analyst, IHS Markit
Dr. Koukou Suu, General Manager of ULVAC Japan
It is the only conference dedicated to connecting executives from semiconductor manufacturing, fabless and OSATs, with many of the world's most important companies in attendance. The ConFab is a rare opportunity to talk face-to-face with influential leaders and innovators. To attend and/or sponsor:
http://theconfab.com/
About The ConFabMore on Rezul News
The ConFab is the premier semiconductor manufacturing and design conference and networking event. It is owned by Extension Media and hosted by Pete Singer, Conference Chair and Editor-in-Chief of
Solid State Technology
- a standard-bearer in the industry.
About Extension Media
Extension Media is a privately held company operating more than 50 B2B magazines, engineers' guides, newsletters, websites and conferences that focus on high-tech industry platforms and emerging technologies. In addition to The ConFab conference, Extension Media produces the Internet of Things Developers Conference (IoT DevCon 2018) and the Machine Learning & AI DevCon in June, and the IoT Device Security Summit in Fall of 2018. Extension Media publishes Solid State Technology and Solid-State.com, Embedded Systems Engineering, EECatalog.com, Embedded Intel
®
Solutions, EmbeddedIntel.com, Chip Design, and ChipDesignMag.com.
Source: Extension Media
---
0 Comments