Rezul News/10620502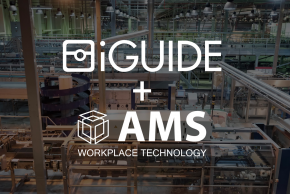 WATERLOO, Ontario
-
Rezul
-- iGUIDE, an industry leader in Digital Twins and floor plans for Commercial Real Estate and Facility Management, have announced today a partnership with AMS Workplace Technology (AMS), an Integrated Workplace Management System (IWMS) implementer and workplace technology consulting firm.
"We're thrilled to announce this partnership with AMS," said Michael Vervena, VP of Sales & Marketing at iGUIDE. "They bring over twenty years of experience in the FM
[Facilities Management]
technology industry and will be able to leverage iGUIDE to create and visualize floor plans for use in space and facilities management systems for customers."
Through AMS, iGUIDE scans will be viewed directly in FM:Systems' flagship IWMS software, FMS:Workplace. Users will be able to switch from viewing typical overhead floor plans directly into viewing the facility as if they were transported to it. In addition, scans will be able to produce new floor plan drawings that are import-ready for an IWMS system.
More on Rezul News
"This strategic partnership allows for faster intake of new space inventory floor plans into an IWMS system when customers lack source drawings," said Dan Lorenz, President of AMS Workplace Technology. "We're also excited to bring the integrated iGUIDE floor plan viewer directly into FM:Systems software for one-click 3D virtual viewing of their office space."
iGUIDE is becoming a global leader in the Commercial Real Estate world by providing Facility Managers with building information data, accurate measurements and floor plans to better handle maintenance and building operations. iGUIDE's technology provides Facility Managers with the most practical way to document accurate building information quickly, easily and securely.
For more than 20 years, AMS has been implementing IWMS solutions and workplace technology to customers, partnering with them to deliver best-in-class FM software and solutions.
iGUIDE and AMS will be co-exhibiting at NFMT on March 21, 2023.
About iGUIDEMore on Rezul News
Founded in 2013, in Kitchener, Ontario, Canada, Planitar Inc. is the maker of iGUIDE, a proprietary camera and software platform for capturing and delivering immersive Digital Twins and extensive property data. iGUIDE is the most efficient system to map interior spaces and features accurate floor plans, measurements, and reliable property square footage. By integrating floor plans and visual data, iGUIDE provides an intuitive and practical way to digitally navigate and explore built environments. To learn more about iGUIDE and its services, visit
goiguide.com
.
About AMS
AMS Workplace Technology (AMS) is an award-winning Premier Certified Business Partner with FM:Systems of 21 years that specializes in consulting, design, and implementation of facilities management software and technology solutions. Our innovative solutions combined with our industry experience have helped many of FM:Systems' largest and most successful customers including corporate facilities, pharmaceutical/research companies, higher education campuses, and healthcare institutions. To learn more, visit
https://amsworkplace.com
Source: iGUIDE
---
0 Comments