Rezul News/10345964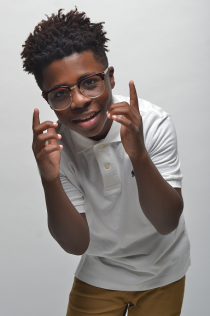 LOS ANGELES & ATLANTA
-
Nov. 16, 2017
-
Rezul
-- He just recently turned 13 years old and he is already taking Atlanta's music scene by storm and he is showing no signs of slowing down. He possesses the confidence of a seasoned veteran entertainer while still maintaining his boyish charm. He goes by the moniker Florida Boy and he is the future of Hip Hop. He was born in Gainesville, Florida and was a sensation at family gatherings at a very young age. He showed star qualities as a toddler with his amazing dancing and singing abilities.
Although he was born in Florida his family made the decision to relocate to Atlanta to pursue opportunities to showcase his multiple talents. He has developed into a rapper along with his singing/songwriting, dancing and acting skills. He is a developing producer as well. He presents more than the common triple threat. He is the whole package and oozes the "It Factor." This has allowed him to acquire fans who range from young children, pre-teen, teenagers as well as adults.
More on Rezul News
He is signed to the Atlanta based label Buck Gang Ent. and they have him slated to be the opening act for several Major artists at key dates with radio stations and to also make promotional appearances at middle and high schools, as well as skating rinks.
The title of his debut single is "Rollin" and it is currently available on iTunes. Expect the unexpected from this young powerhouse and prepare to go "rollin" into the future of Hip Hop with the sensation known as Florida Boy.
https://www.floridaboybg.com/
https://itunes.apple.com/us/album/rollin-single/id1230668519
https://www.youtube.com/watch?v=cEQu52ds9H8
Source: Buck Gang Ent
---
0 Comments