Rezul News/10324809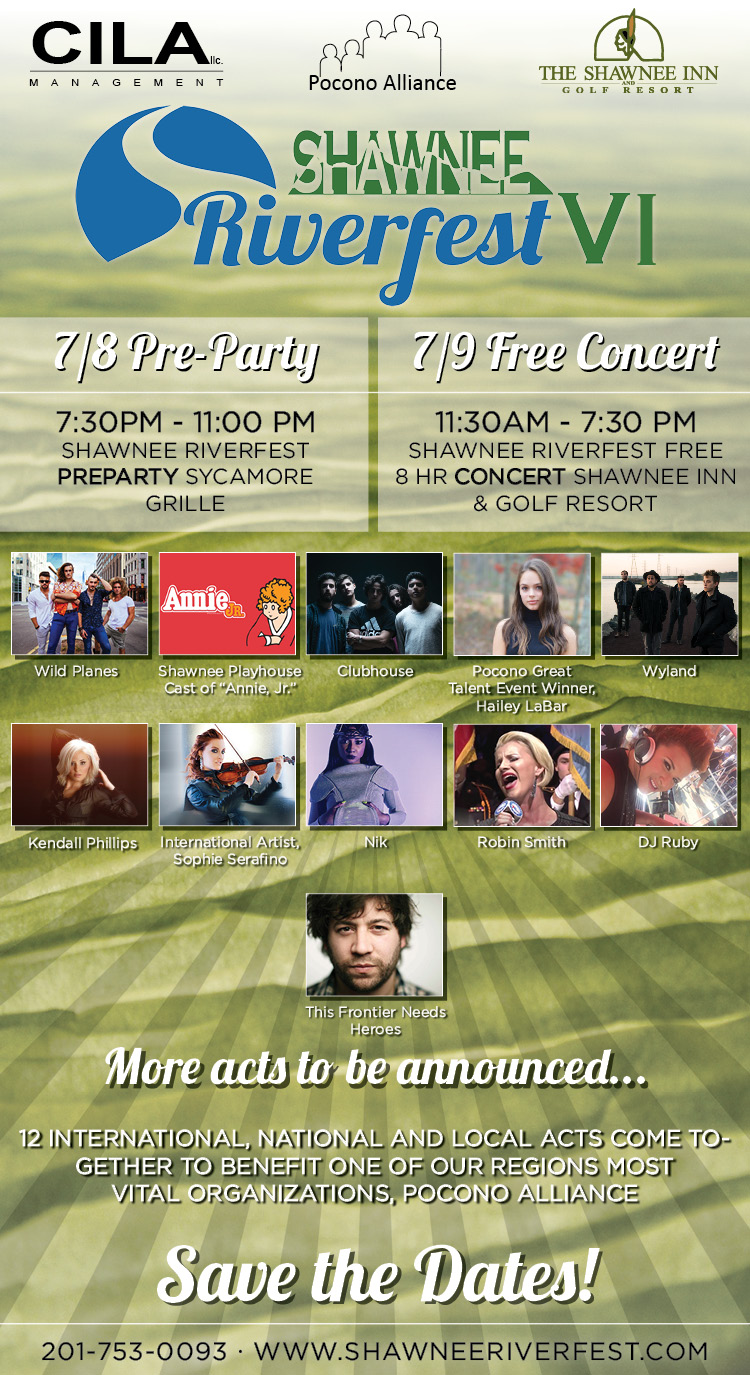 Shawnee Riverfest VI makes a splash with Pocono Alliance, spreading its presence within the Poconos. 12 International, National, and Local acts come together to support Pocono Alliance, and its mission.
EAST STROUDSBURG, Pa.
-
Feb. 9, 2017
-
Rezul
-- NY/NJ/PA - Shawnee Riverfest, in its 6th year, is excited to partner up with Pocono Alliance, spreading its presence in the community. "Pocono Alliance is a dynamic and exciting not for profit organization we are thrilled to partner with this year. They work with and refer our community to over 521 agencies and 924 services which provide education, food, shelter and so much more," says Gil Coronado, Event founder. Michael Tukeva, Executive Director of Pocono Alliance, adds, "Shawnee Riverfest provides the opportunity to experience amazing International, National and Local artists as they come together to support our community through this 8-hour, family-friendly, free concert. Pocono Alliance is blessed to be a part of the event and encourages the community to come out for a day of fun, encouragement and hope."
More on Rezul News
Shawnee Riverfest VI will kick off with a Pre-Party on Saturday, July 8th at Sycamore Grille, where the public can come in and meet these artists, take photos, and hear some impromptu performances and collaborations. Proceeds from this gathering are donated by Sycamore Grille as the fundraising begins.
Then on Sunday, July 9th, the main event takes place at the Historic Shawnee Inn and Golf Resort for this incredible 8-hour concert. 12 International, National, and local acts come together to support our community. There are food vendors, Auction Items, an Art Contest, Bouncy houses and even a Photo Booth to capture a moment with your favorite acts. All proceeds will go directly to support Pocono Alliance's mission, strengthening ties and creating connections within the community.
"We have attendees that travel here for this annual event and look forward to seeing acts they would not normally have the opportunity to see. Last year we had a family reunion that took place during Shawnee Riverfest; it was so great to see them having a great time and reconnecting," says Organizer Gil Coronado. "This is what this event was aimed at doing, bringing the community together for a free, family-friendly event where they can enjoy themselves while supporting our community."
More on Rezul News
This year's sponsors include Sherman Theater, Pocono 96.7, Rockin Photobooth, Shawnee Inn and Golf Resort, and CILA llc Management. To learn more on how to support, vendor, or perform at this year's event, visit
www.shawneeriverfest.com
.
What: Shawnee Riverfest VI Pre-Party and Shawnee Riverfest Concert
Who: General Public/ Press
When: Saturday, July 8th Shawnee Riverfest Pre-Party 7:30 pm - 11:30 pm
Sunday, July 9th Shawnee Riverfest Concert 11:30 am - 7:30 pm
Where: Shawnee Riverfest Pre-Party, Sycamore Grille, 65 Main St, DWG, PA
Shawnee Riverfest Concert, Shawnee Inn and Golf Resort, 1 Shawnee on Delaware, Shawnee on Delaware, PA
Admission: Shawnee Riverfest Pre-Party, Free
Shawnee Riverfest Concert, Free
Contact: Gil Coronado, CILA llc Management, for press inquiries, vendors, sponsorship opportunities 201-753-0093 gcoronado.cila@gmail.com
Source: SHAWNEE RIVERFEST VI
---
0 Comments