Rezul News/10445064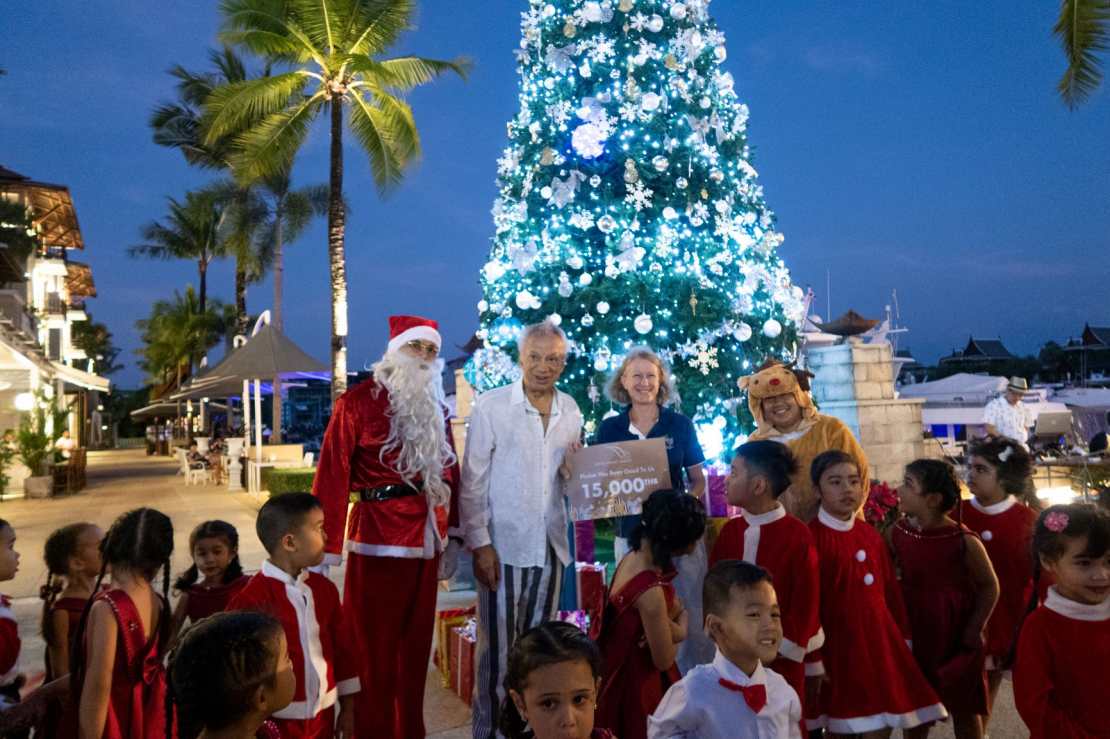 Royal Phuket Marina hosts Christmas tree lighting ceremony and Festive Festival
THALANG, Thailand
-
Rezul
--
Royal Phuket Marina hosts Christmas tree lighting ceremony and Festive Festival 2019: Snowy White Christmas
PHUKET, THAILAND
: Royal Phuket Marina held a Christmas tree lighting ceremony on December 7
th
, as part of its very own Royal Phuket Marina Festive Festival 2019 on December 7
th
and 8
th
. Proceeds from the weekend event were passed on to a community-based charity.
On the evening of December 7
th
, Royal Phuket Marina Chairman Mr Gulu Lalvani lit up the giant Christmas Tree located in the centre of the marina. The tree's lights illuminated all the yacht berths and the calm waters of the marina, creating an idyllic scene as a choir of 30 children from a local Phuket school sang classic Christmas carols to conclude the evening's celebrations.
The Festive Festival 2019 featured a Snowy White Christmas theme, delivering good cheer to the Town Square of the Royal Phuket Marina on December 7
th
and 8
th
, which was joyfully received by all the attendees.
The celebration marked the second annual Royal Phuket Marina Festive Festival. The event was a resounding success in 2018, and was even better attended this year. Royal Phuket Marina plans to hold the Festive Festival every year around the same time, as part of the lead-up to Christmas.
More on Rezul News
The two-day Royal Phuket Marina Festive Festival 2019 featured enchanting seasonal décor, live entertainment, gifts, handicrafts, food, drinks, and plenty of Christmas cheer.
All of the profits from the event were donated to
Phuket Has Been Good To Us
, a charity that provides free English lessons, as well as maths and science lessons in English to more than 700 local underprivileged children in two Phuket area schools. Phuket Has Been Good To Us also runs the Coconut Club, an after-school programme that includes games, arts and crafts, cooking lessons, and the opportunity to further practice English for students.
At the conclusion of the event, Mr Lalvani presented Tina Hall, Director of Operations for Phuket Has Been Good To Us, with the proceeds from the two-day festivities, which amounted to more than 15,000 THB.
"Our vision is to support local charities and contribute to the future of Phuket," said Mr Lalvani. "We at Royal Phuket Marina have been very fortunate and we consider it both our responsibility and our privilege to give back to the community that has given us so much."
Royal Phuket Marina, Phuket's luxury lifestyle destination, has received many prestigious awards for sustainability, including being the first and only marina in Thailand to receive the 5 Gold Anchor Award and International Clean Marina Certification. It is also in the process of completing a solar cell project that will generate 100% of its power by the end of the first quarter of 2020. As of now, 55% of Royal Phuket Marina's energy comes from solar power.
More on Rezul News
Royal Phuket Marina prides itself on providing much more than just a state-of-art marina. From its prime location in central Phuket, it is also home to the largest exhibition hall in Phuket, boutique shopping, fine dining restaurants, office spaces, a beautiful boardwalk, spacious waterfront condominiums, and the only luxury villas in Asia to each come with a private boat berth.
Beyond its commitment to delivering world-class services to all of its guests, Royal Phuket Marina regularly supports the local community and the less fortunate. To that end, it will hold quarterly charity events throughout 2020 and beyond.
Updates on all upcoming Royal Phuket Marina events can be found at
royalphuketmarina.com
Source: Royal Phuket Marina
---
0 Comments