Rezul News/10429604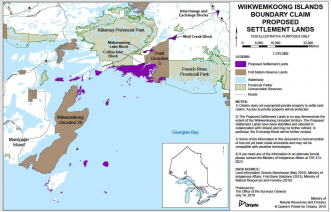 Native land claims have become more than just attempting to resolve treaties and now promote economic, cultural and community development.
TORONTO
-
Rezul
-- After two years of public input, Ontario Ministry of Indigenous Affairs released its final Environmental Study Report relating to the transfer of Georgian Bay islands to settle a claim by Wiikwemkoong of Manitoulin Island. Their current claim is for exclusive possession of thousands of islands in Georgian Bay from Killarney to French River, islands which they never inhabited.
The report fails to address the numerous concerns from the public and adjacent landowners according to Beaverstone Bay Mill Lake Association spokesperson George Drobek. The public has used these islands for centuries and long before the Wiikwemkoong arrived at Manitoulin from USA in the 1830's.
When questioned about evidence which does not support the land claim, MIA Minister Rickford stated that land claims allow the government to support Native economic, cultural and community development, implying that a land claim does not have to be valid.
More on Rezul News
This claim apparently relies on an altered map drawn 60 years after the first treaty was signed. The proposed land transfer also includes four blocks of land on mainland, not islands, and three of the blocks are strategically selected to block access to waterways entering the new reserve. The fourth block is at highway 400 interchange with 637 which is 60 km from Georgian Bay.
The Ministry has not been able to explain why these blocks of land were selected and the term "block" seems appropriate as they will block access. Private landowners and the thousands of boaters and canoers currently using these waterways will be affected or even restricted from future access, despite denials by the government. The maps presented in the ESR are totally unacceptable according to the Association, as the resolution is too small to accurately determine the boundaries of the mainland blocks and islands.
Another issue discovered with land claims is that MIA represents the native position and their welfare and thus is conflicted when representing the public. When lands set aside for a new park are the purview of another Ministry, that Ministry has been unwilling or unable to defend its park land on behalf of the public, instead it defers to the Ministry of Indigenous Affairs for its position.
More on Rezul News
To be fair, Minister Rickford inherited the mess from the previous government. It remains to be seen whether Rickford will go along with Wynne's direction or whether he will be honest enough to deal with the facts and not use Indigenous Affairs for welfare handouts disguised as a land claim.
The full ESR can be viewed at:
Final Environmental Study Report
Map:
Notice of completion
More information:
saveourislands.ca
Source: Beaverstone Bay Mill Lake Association
---
0 Comments