Rezul News/10362469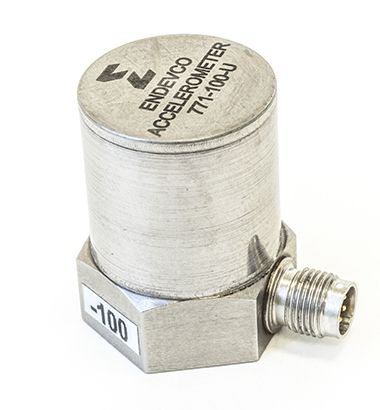 IRVINE, Calif.
-
March 8, 2018
-
Rezul
-- Meggitt Sensing Systems, a division of Meggitt PLC, has released the
Model 771
variable capacitance accelerometer for aerospace and military applications. The hermetically sealed, stainless steel housing ensures accurate and stable measurements over many years, while the DC response of the
771
is critical for accurate integration calculations.
This sensor excels at measuring low level accelerations immediately after a shock and its rugged design provides 10,000 g shock survivability. The
771
can also operate from -55 to +125 °C, compliant with many aerospace and military test specifications.
Key features:
• 2, 10, 30, 50, 100 and 200 g ranges
• Easy to install 0.625 inch hex base
• Flat frequency response up to 1,500Hz
More on Rezul News
• 7 to 36 V input voltage; "R" option for 5 V operation
• Single-ended output
Materials of construction are CE and RoHS compliant. Each unit is tested, custom-packaged and shipped with its own calibration certificate and a 10-32 mounting stud. Optional mounting studs are available as is the rugged 3027A cable that was specifically designed for shock and vibration environments.
For more information on all Endevco products or to buy online, visit
www.endevco.com
. For full details on all Meggitt Sensing Systems products visit
www.meggitt.com/mss
.
###
About Meggitt Sensing Systems
Meggitt Sensing Systems, a division of Meggitt PLC, is one of the world's leading providers of high performance, extreme environment sensing, monitoring, power and motion systems. It specializes in designing products to operate under harsh and demanding conditions. It has operated through its antecedents since 1852 – ECET, Endevco, Ferroperm Piezoceramics, Lodge Ignition, Negretti & Zambra, Sensorex and Vibro-Meter. Today, their capabilities and facilities have been integrated under one Meggitt to provide complete systems from a single supply base.
Source: Meggitt Sensing Systems
---
0 Comments