Rezul News/10601101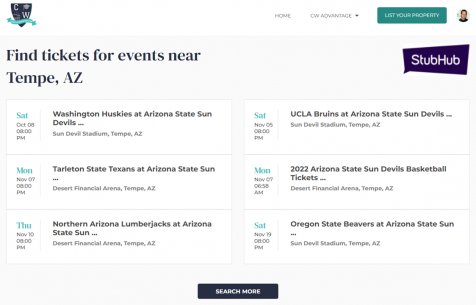 CollegeWeekends.com partners with StubHub, a market leader in 3rd-party ticket sales, to provide access to event tickets in college towns on its platform
VIRGINIA BEACH, Va.
-
Rezul
--
CollegeWeekends.com
, a short-term and vacation rental platform specializing in college and university towns, announces that it has partnered with
StubHub
.
CollegeWeekends continues to expand into new markets across the country (now in over 25 markets) while also adding new functionality to its platform. The company has teamed up with StubHub to provide renters with easy access to see upcoming events in college town markets and purchase tickets directly from its platform.
"We are excited to partner with StubHub," says John Cunningham, CEO & President of CollegeWeekends, "and believe this added partnership and integration will provide further "one-stop shop" benefits to travelers while planning for and visiting college towns and youth sports tournament destinations."
More on Rezul News
As part of its one-stop shopping strategy for visitors to college towns and youth sports tournament destinations, CollegeWeekends also provides college town favorites, including restaurant and night life guides, recommendations on things to do, interactive maps, and now, event tickets. Additionally, short-term rental owners are also able to provide add-ons and package deals to their listings to take their renters' weekend to the next level by including items like game tickets, meal vouchers, and transportation.
"Our goal is to continue to explore ways and partnerships to innovate and add high value elements to the CollegeWeekends' platform to enhance the overall experience for visitors to college town and youth sports tournament markets," says Cunningham.
About CollegeWeekends.com
:
Founded in a college town, CollegeWeekends connects alumni, fans, parents of students, and other travelers with short-term lodging options in or near college and university towns. The company has also expanded into serving youth sports tournament destinations as well. From a simple studio room to luxury homes, we connect renters and owners through a platform that enhances the rental experience. CollegeWeekends offers easier searching, a two-way rating system, secure and easy payment, instant booking, and local recommendations to make an unforgettable rental experience.
Source: CollegeWeekends.com
---
0 Comments