Rezul News/10346579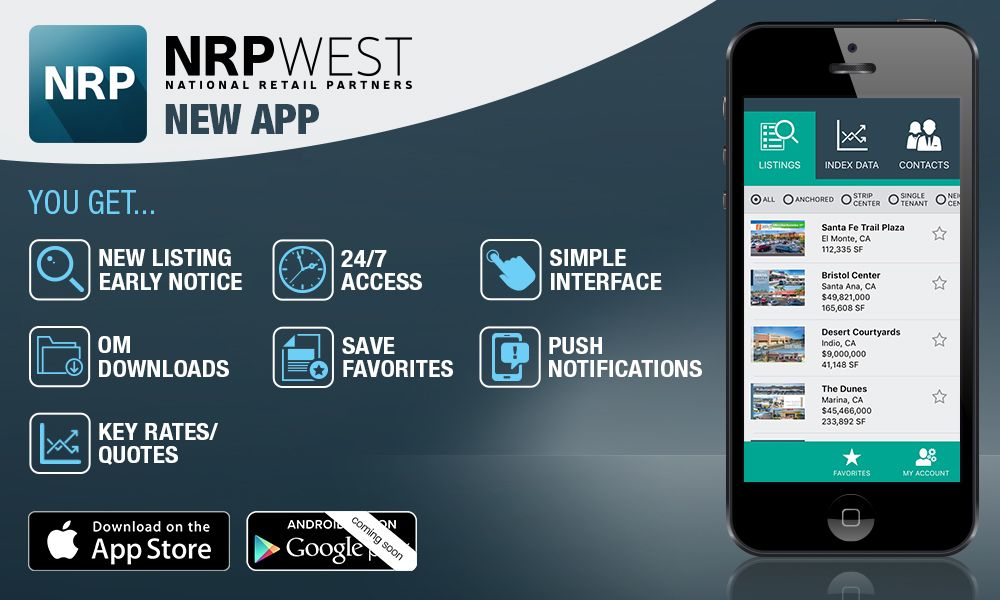 NEWPORT BEACH, Calif.
-
Nov. 20, 2017
-
Rezul
-- NRP-West, CBRE's West Coast Retail Institutional Group team led by CBRE Executive Vice President, Philip D. Voorhees, announced today the release of its iOS and Android mobile app. "At this dynamic stage of the real estate cycle, the NRP-West team continues to employ a systematic, proprietary database-driven marketing approach to reach the widest array of potential investors," said Voorhees. "In a rapidly changing retail industry, NRP-West excels by providing clients convenient access to retail investment opportunities and timely information. This new mobile app demonstrates our team's commitment using technology to simplify the business process and enhance our customer experience."
With over $10 billion in successful retail investment sales, and as one of CBRE's top retail investment brokers, Voorhees has an established track record built on innovation in the commercial real estate industry. "Leveraging technology and amassing and refining data over time are core principles of our team's marketing process," said Voorhees. "A daily deluge of information and emails inundate principals and brokers, making it challenging to break through the clutter. It can be tough to quickly determine what is germane and which opportunities meet a client's acquisition criteria. Reducing clutter and creating a dedicated pipeline for our clients, much like a text message compared with an email, was the impetus for launching this mobile app."
More on Rezul News
The app allows registered clients self-serve access to all NRP team listings, early notice on new retail investment opportunities, and push notifications delivering listing and pricing updates. "The app has received favorable feedback since its initial launch last month at ICSC's Western Conference & Deal Making event in LA," said Voorhees. "We will continue developing this mobile-friendly platform and advancing CBRE as a technology leader in commercial real estate."
To download the iOS app, visit:
https://itunes.apple.com/us/app/nrp-west-retail-listings/id1268845006?mt=8
To download the Andriod app, visit: www.nrpwestapp.com
About National Retail Partners-West
The NRP-West team leads CBRE Institutional Group retail practice in the west, focusing exclusively on retail investment properties in the western states, including CA, OR, WA, NV, AZ, NM and HI, representing the most accomplished retail investors in the business. The team's collaboration across CBRE's multi-discipline platform enhances its role as strategic advisors to clients engaging in the disposition and acquisition of retail properties in the western U.S., and ensures delivery of superior results in today's investment market. Long recognized as industry-leading investment experts, the NRP-West team continues to specialize in portfolio sales, anchored centers, strip centers, single-tenant assets, specialty retail projects, REO and Receivership assets and parcelized disposition strategy opportunities. Based in Orange County, Calif., the team consists of specialists with institutional and private client relationships, and leverages institutional quality knowledge and service across unparalleled access to private capital investors and the brokers who represent them, domestically and around the world. View listings: listings.nrpwest.com (
http://listings.nrigwest.com/
)
More on Rezul NewsAbout CBRE Group, Inc
CBRE Group, Inc. (NYSE CBG), a Fortune 500 and S&P 500 company headquartered in Los Angeles, is the world's largest commercial real estate services and investment firm (based on 2015 revenue). The Company has more than 70,000 employees (excluding affiliates), and serves real estate investors and occupiers through more than 400 offices (excluding affiliates) worldwide. CBRE offers a broad range of integrated services, including facilities, transaction and project management; property management; investment management; appraisal and valuation; property leasing; strategic consulting; property sales; mortgage services and development services. Please visit our website at www.cbre.com.
Contact
Nadja Brandt | Media & Communications Mgr.
CBRE | Southern California | nadja.brandt@cbre.com
***@monaghanpr.com
Source: CBRE
---
0 Comments